WELCOME TO MRS. RAMSEY'S FOURTH GRADE CLASSROOM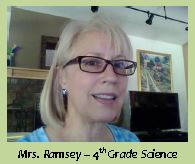 Welcome to Wonderful School Year at GPS! I am so excited to be a part of the GPS family and to be teaching our fourth-grade students Science and Non-Fiction Language Arts.
Although I'm a new teacher on the GPS staff this year, I'm not completely new to GPS. I have served as a substitute teacher in our district since 2009 and have lived in Geneva since 2004. For the past two years, I was a Title One Tutor for students at Austinburg Elementary. So if I look familiar, or if you look familiar to me - that is probably why.
My husband, Darrell and I have two sons who attend Geneva High School. Liam is a junior this year and Jack is a freshman. We also have a family dog named Deuce.
Please feel free to give me a call at our school number: 440-466-4831 (extension 3105) or send me an email: cheryl.ramsey@neomin.org